The debate between cordless and corded power tools is a polarizing topic that has tool enthusiasts divided. Both types have their own strengths and weaknesses which depend on the needs and wants of the user. Cordless tools will always be looked down upon for the relatively less power they draw from batteries. Corded tools, in comparison, rely on unadulterated power to get the job done.
Let's learn the real difference between the two types of tools.
Cordless Tools – Pros
Most tools on the market are powered by rechargeable lithium-ion batteries. These removable batteries have a relatively long charge cycle before they finally run out of 'juice.' Li-Ion batteries don't lose power over time if the tool isn't in use. They are optimized to occupy less space and mass which makes life easy for the worker.
Portability is a big factor when it comes to cordless tools. Since you don't have to rely on the wall outlet for power, you can carry the tools around with you just about anywhere. These tools also help users work in narrow spaces with full freedom of movement.
Cordless tools are easier to store because most models come with containers that offer storage space to the tool and its components. Just place them on drawers and shelves to get the job done.
Corded Tools – Pros
Corded tools are connected to a continuous stream of the power supply, which allows them to utilize powerful motors with a high range of torque settings.
Performance doesn't suffer and the machine can work at its highest operational capacity.
Corded tools can be used to exert a high amount of torque, an option that isn't available with cordless varieties.
Cordless Tools – Cons
Even the most advanced batteries will run out of charge eventually. The time spent charging the battery is unproductive. Many DIY enthusiasts have other commitments and obligations to meet and don't have the luxury of losing valuable work time.
Some cordless tools are rather heavy because of the battery's own weight. Not all tools have lightweight batteries. Users will get fatigued, even if they have a higher range of movement available to them.
For optimized usage, most jobs will require you to carry at least two batteries with you in case one runs out. This can be annoying for some people.
Corded Tools – Cons
It is not possible to carry corded tools with you everywhere. You will either extension cords with long cables or do things the old fashioned way by connecting the machine to a generator. Either way, it's not a hassle-free process.
Finding the right place to store your corded tool can be a challenge. Many people have become creative in finding ways to store their favorite tools without damaging them. A good way to store and organize your tools is with pegboards, but that is an extra expense.
Want to learn the difference between corded and cordless tools but don't want to spend too much money on them? Just rent them out for a brief period at Garage101. Click here to rent your favorite tool.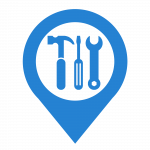 Garage 101 is an online platform for renting and buying hardware tool of every category. If you want to rent or rent out any tool, register yourself at their website.
You can call at +1-650-230-8081 or email at info@garage101.com to contact the company for any information or inquiry.