Cutting simple curves with a tool like a bandsaw is easy.
But professionally shaping a log into lumber can be quite challenging. So, let's take a look at how you can make the most out of a bandsaw by using these effective tips and tricks.
Setting the Guides Closer to the Wood
There are two reasons for setting the guides closer to the wood. The first one is that you can achieve better cutting results since the lower blade guides come closer to the upper blade guides.
The second one is related to safety. By setting the guides closer to the wood, you reduce the exposure of the blade.
Improving Performance by Rounding the Blade
With the help of a saw blade finishing stone, true the blade to increase blade life, reduce blade vibration and cut tighter curves. Begin by removing the back edges. Afterward, start rounding the back part.
The entire practice will hardly take 5 minutes but will prolong the lifespan of the blade.
Cutting on the Outer Edge of a Line
When you work with a bandsaw, you can see that it leaves saw marks. To reduce the material that needs to be removed, cut on the outer edge of the line.
That being said, it is not easy to follow the edge of a line, so you need to practice particularly for a curved part. Before you start working on the actual project, master your skills by practicing on a piece of wood.
Safety Tips
You can avoid accidents and injuries by following the safety tips mentioned below:
Always keep the blade 3 inches away from your fingers. This is termed as the 3-inch rule.
Before working, examine the blade tracking and tension.
Use a jig to cut pieces that are not flat.
Never try to insert your hand to remove small pieces while the machine is running (moving blade).
Don't push toward the blade using your thumb.
To prevent people from falling and slipping, don't let them come near the bandsaw. Set a perimeter of "no-go zone" of 2 feet.
Wear safety glasses all the time while working on the bandsaw.
Also, wear hearing protection.
Tie back hair and don't wear jewelry and loose clothes. Anything that can get stuck in the machine should be taken care of and removed if necessary.
Getting a Bandsaw from Garage101
You can rent out a bandsaw from Garage101 instead of purchasing it from the market. For daily purposes, you won't need a bandsaw. It is better to get it on rent for one-time use rather than buying it at a higher cost.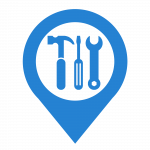 To find a bandsaw, open up the website of Garage101 and look for it. The prices are also mentioned alongside so you can choose where you want to rent it out.
To get in touch with Garage101, you can call at +1-650-230-8081 or email at info@garage101.com.