You'd be surprised to find out just how many emergency room visits happen because of using a power tool.  These accidents are caused by not following the safety protocols while handling a power tool.
You can drastically lower the chances of accidents by taking proper safety measures and working with full concentration.
Did you know that you can rent a power tool from Garage101? Once you have rented a tool, remember to follow these tips so you don't end up with a cut, bruise, or something worse while working with a power tool.
Wear Proper Equipment
You should always put on protective clothing items to save yourself from injuries. For instance, wear a helmet on a construction site, or use safety goggles while welding. If you are working with fire, it is recommended to wear protective fire-proof clothes and a gas mask.
You should also avoid wearing loose clothes which can get tangled up in a moving part of the machine. It is better to remove jewelry items before working with a power tool.
Buy Quality Power Tools
Low-quality tools can cause problems or even break while functioning. If you use such tools, there is a higher chance of injuries and accidents, not only to yourself but also to the people standing nearby.
You can get good-quality tools from reliable vendors. In case you don't want to buy or need a power tool for a short time, you can rent it out from Garage101.
Examine Tools Regularly
It is a good habit to keep a check and balance on the condition of your power tools. Wear and tear are natural which is bound to happen, so you should inspect your tools on a regular basis.
Replace any worn out spare parts if needed. Check the oil of machines and apply proper lubrication to these tools.
Working on a High Level
When you are working at heights, don't leave tools in such a position that they can drop and cause an injury to some other worker. Power tools are usually heavy items and if they fall from a high area, they can cause significant damage to a person; in the worst case scenario, a fatal injury as well.
Ensure that Floor is Dry
A floor that has been recently mopped can be a cause of slips and falls. Make sure that you are working on a dry floor that is not slippery at all. In case the floor is wet, wait patiently for it to dry, or call the janitor to speed up the drying process.
Getting Power Tools from Garage101
Don't worry if you are unable to find a power tool, because Garage101 is here for you. Get a tool of your choice on rent by exploring their website.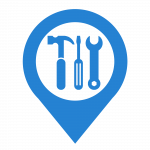 To contact the support team for any information, you can dial +1-650-230-8081 or email at info@garage101.com.