Earlier, we discussed some hardware tools and equipment that is better rented than bought. There are more similar tools that we will try to cover here.
Electric Augers
Augers or diggers are usually required when you have to drill holes in the soft foundation of your premises to install a fence or something similar in regards to its assembly. This can be done either with manually operated clamshell diggers or electric augers. Manual diggers are cheap, but they are not easy to handle. Apart from consuming too much physical energy, they also take a lot of time.
Electric augers, on the other hand, can complete the same tasks within minutes, but they are not low-priced machines. One thing more; you don't need to drill a hole in your outdoors every day, which makes it more difficult to decide whether you should buy an electric auger or not.
The best way to deal with this dilemma is to opt for renting an electric auger. Any tool renting portal can help you with finding a working electric auger near your location.
Plumber's Snake
Once in a while, homeowners need to open the clogged plumbing lines. Handheld snakes can help you with unclogging the drains. However, every clog is different from the other. Some can be sorted with a small cable, but others require a more extensive unclogging effort with a longer cable.
So, buying a plumber's snake with a fixed cable might not solve the recurring clogging problems.  Therefore, we recommend you to rent a plumber snake with the required cable length whenever you come across a clogged drain. Online portals have made it really easy to rent any such tool the moment you need it.
Tile Saw
A range of tile saw is available in the market. You can easily find cheap models that can do basic cutting tasks. However, if you have to do some serious reconstruction work that requires extensive cutting of large and thick tiles of varied materials, then these economical options will fail miserably. For instance, they can't effectively cut marble tiles. Moreover, their small decks make it difficult to cut-large size tiles.
You don't require tile-cutting tools every day. So, it will be better to look for a heavy-duty, professional tile saw on rent. You can easily find such professional tile saw assemblies at online renting portals.
Flooring Stapler
Many people take care of hardwood floor installation on their own. For such DIY activity, you require a range of hardware tools. Flooring stapler is one such tool, which is needed to take care of floor nailing. Work like floor installation is needed in years. So, instead of spending hundreds of dollars on buying good quality flooring stapler, you can rent them for a day in a couple of dollars.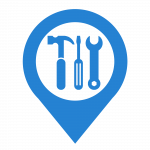 These two blogs have effectively established how sometimes it is better to rent a tool instead of buying it. In any such situation, go to Garage 101 and look for the tool that you want to rent for a particular duration to perform a certain task.
You can call at +1-650-230-8081 or email at info@garage101.com to contact the company for any information or inquiry.